As you maybe already know, I left my apartment near Paris in France to move to Austin, Texas. I was separated from my husband for nine months. During this long period, while my husband was settling in the United States (he found a job, bought a car, rented a flat, etc.), I had a lot of time to think about how to reduce the amount of belongings we have. We didn't want to move all of our furniture, but we refused to sell everything we have because some objects are important to us or remind us of our travels, for example. We store part of our belongings at our parents' homes, but of course they are not  furniture storage units! So, I sold some of our furniture and stored the remainder in an attic. I likewise had the time to select what I really wanted to keep and what I didn't need anymore! I've read several pieces of advice on the French Blog Maman Minimalist and on Marie Kondo's website that presents the revolutionary Konmari method. So, here are 10 useful steps to  help you tidy up your home and live a better life with fewer things.  Whether you are moving or not, this series of advice notes may help you see more clearly how to tidy up your home sweet home!
Live a better life with less: a concept in the spirit of the times
We realize that possessing a lot of pointless objects doesn't make us feel happy! At first, we are naturally glad to have a new gadget, but then when we see it standing useless in a cupboard, we are just embarrassed to have bought it. Moreover, some low-cost objects are not sustainable and could even be dangerous for ours or our loved ones' health. Whether it is because it is required from us or as a result of some good resolution, we sometimes have to tidy up and throw away some belongings. Here is some advice that will help you clean, classify, put things in order, and make a clean sweep. After reading this article, you'll have no excuse and won't be able to postpone the moment you take action anymore!
1. Provide time to put stuff in order
Cleaning up and clearing space require time and personal motivation and this is something we have to admit. Therefore, if you want to start tidying up, plan to set aside at least 2 hours per session if you want to clear up in a few sessions. Best would be to allow yourself 4 hours and thus get the great sensation of making good progress. Don't suppose you will be able to clear up all of your home in just a few hours except if you have very few belongings, or you will be quickly disheartened.
OK, let's go. I plan to start clearing up on a Sunday afternoon. Where do I start?
You should start with the room that looks the least difficult to tidy!
Clearing our clothes, old toys or memories in our parents' house, or even our fridge: the task can be more or less laborious. So, to stay motivated, you should start with what you consider to be the simplest part. It might thus be a good idea to avoid the photo album or that box with all the letters and birthday cards that tend to plunge us into some good old memories! The emotional part prevents us from being efficient. You should probably give priority to simple tasks, such as throwing away all expired food and drugs from your fridge and medicine cabinet; getting rid of holed socks and anything that has no emotional charge or things that are quite evidently obsolete by now (like those old VHS that take up so much space on your bookshelf)! There, you are now ready for the big clean up!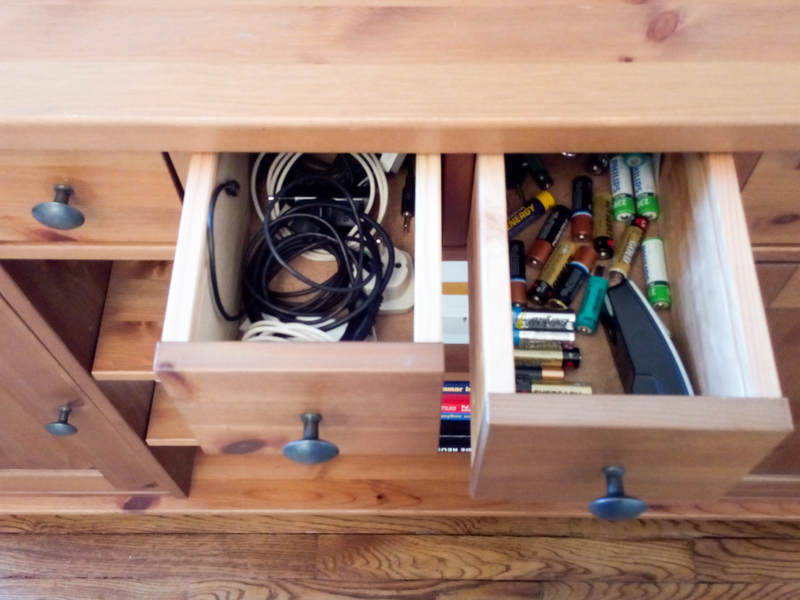 2. For sale
Amongst the many useless belongings, there are certainly some that can be sold. Before giving it a try, ask yourself if someone might be interested, if the object is in a good condition and what its potential price might be. You can sell your belongings in a second-hand shop, at a flea market, to an antique dealer, or on websites. Some bookstores and specialized shops buy back second-hand books, cameras, etc. For example, I sold a never-used printer toner, books, shoes, and a pair of rollerblades that I had only used a few times, among other things. The truth is, it's great to have good resolutions, such as doing more sport, but when you don't use your rollerblades for more than two years,  it's perhaps better to sell them to someone that will actually use them! This doesn't make me any richer, but gives me the satisfaction of letting these objects have a second chance, that at least is for sure!
3. Give
Whatever you can't sell, you don't necessarily have to throw away! Maybe you can give it to charity (for instance, old clothes that are still wearable, but you don't want to wear anymore). I gave a lot of clothes to several charity associations, and tableware to someone that I knew was about to settle in a new home. There are also websites that function as platforms for companies and individuals that want to give objects away.
4. Throw away
Well, a broken object is a broken object. I mean, sometimes there is nothing to do about it except to throw it away. But we shouldn't forget selective waste sorting, of course. Except for damaged belongings, how do we know if we have to throw something away or not? Marie Kondo explains that we have to keep only belongings that make us happy! Bye bye to that gift from your great-grandaunt that you never use. Kondo says that we have to be grateful when we receive a present but that we shouldn't hesitate to detach ourselves from it one day if needed.
5. Digitize
The crackling sound of a vinyl disc on a turntable or the scent and the touch of a book are inimitable pleasures! But sometimes, as in my case of moving to another country, one has to think about how to reduce the amount of boxes one stores and then has to move. I have quite a lot of books and I think they take up more than enough place already, so I decided to start reading on an e-book reader. I still buy books (coffee table books for example). Yet, I prefer to buy e-books when it comes to literature and essays. Even if sometimes I wish I could touch the cover or smell the paper, it's still amazing the amount of books that an e-reader, a small tablet the size of a hand, can contain! With regards to music, we are attached to our vinyl records, but we digitize all our music that is on CDs.
Finally, there is not just your cultural goods that you can digitize; there is also your bills! You can gain a lot of space by doing this! The first bills I asked to be sent to me numerically were those for my cell phone. Why store all of those bills at home when we can have it all online?
6. Organize
There is nothing more annoying than not finding a document or an object when one needs it the most. This might result in a waste of time, irritation, even some unfounded accusations. We have all experienced this. So the best way to avoid this situation is to classify our documents, bills, and belongings. I think it is even essential to do this with important documents. You can buy beautifully colored binders and sort out documents in different categories. Don't forget to write on top of the binder what documents are inside.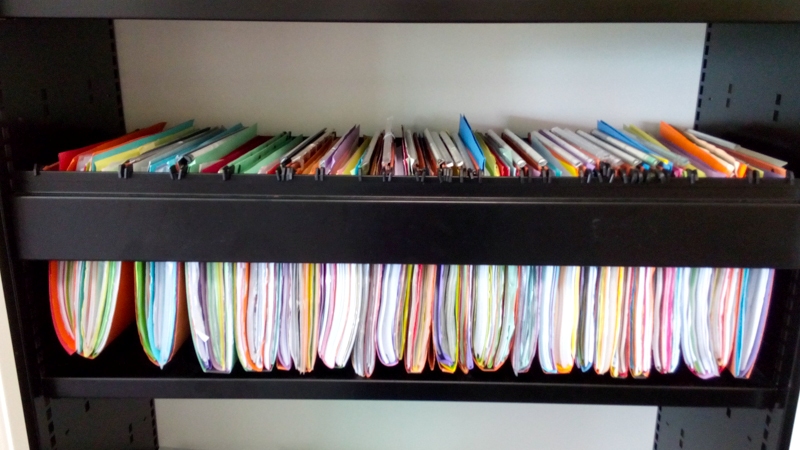 7. Swap
Another way to get rid of something we don't use anymore is by swapping it. Some websites offer swapping opportunities, but a funnier way to do this is to invite friends over to your home and suggest they bring clothes, jewelry, bags or books they don't want anymore. Bake some muffins and cookies. You will not only have a nice party, but everyone will be glad to exchange earrings against a shirt, or a book against a bell! I did it once and all my friends appreciated it!
8. Borrow
Do we really need several dozens of sets of cutlery and champagne glasses for the day we intend to host a big party? Can't we share a ladder or some other such tools that we use twice a year with our neighbor? Instead of buying an object that we rarely use, we can borrow or rent it and free up some space in our home. Moreover, borrowing something from your neighbor might be an opportunity to get to know each other and then some day you might help him/her in return.
9. Tidying up regularly
Once you have finished tidying up your house, the best way to keep a comfortable home is to file stuff and clean it up regularly. Do the dishes on a daily basis. Clear out your purse and your coat's pockets once a week. Put your closet in order four times a year.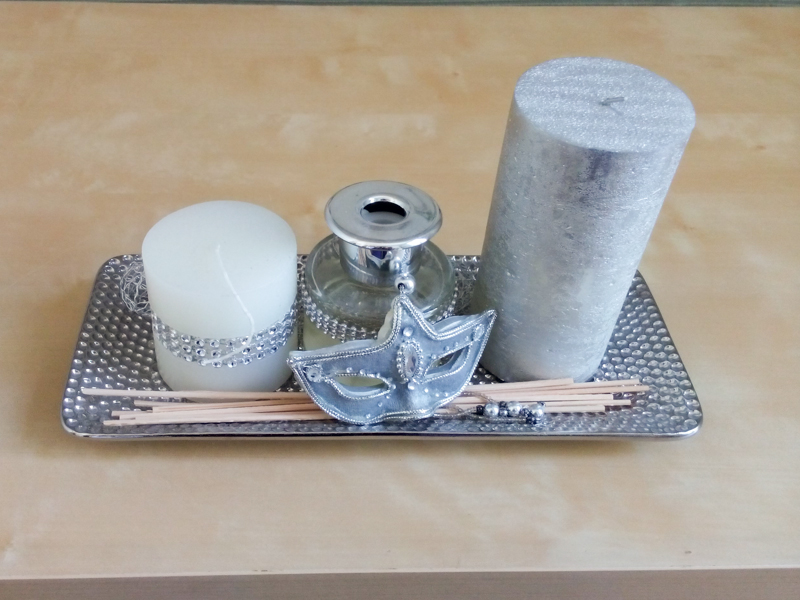 10. Decorate
Now that everything is clear and in order, congratulations! I invite you to customize your home to feel more enjoyable. You can put a vase of flowers on a lovely cleared up table: the pleasure of looking at the flowers and feeling comfy in your living room will dissuade you from letting dirty dishes and mail pile up on this table.
So, are you ready to clean up and live a better life with less? It's your turn now!
---