You improvise an aperitif or a buffet dinner at home and you want to serve something more original than cheese puffs, crackers or some other snack mix? You're right! There is a perfect and delicious recipe that will astonish you guests. These puff pastry rolls with pesto are absolutely delicious and easy to make. All you need is just two ingredients.
Ingredients
1 ready puff pastry sheet (about 0,7 lb)
1 pot of green basil pesto
Preparation
1. Preheat the oven to 350 ° F.
2. Unfold or roll out the puff pastry and spread it out.
3. Uniformly apply ½ cup of green pesto onto the pastry using a table spoon.
4. Cut the puff pastry into several large stripes (minimum 3 inches).
5. Roll the stripes to form pastry rolls.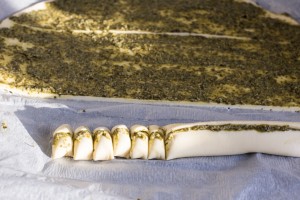 6. Slice each pastry roll into pieces.
7. Arrange the pieces in a dripping pan covered with parchment paper. Leave about 1 in between pieces as they will rise during the cooking.
8. Bake for 15 to 20 minutes.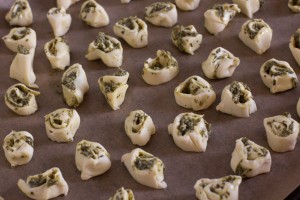 It's ready! You now have amazing pesto rolls as an appetizer.
NB: You can also use sun-dried tomato pesto or even tapenade instead of green pesto. The result will be just as delicious!
---