When someone says that they love to cook, this often represents multiple realities. We can enjoy cooking only desserts, or preparing sophisticated dishes when we receive guests. Personally, I like to cook simple everyday dishes that are healthy and gourmet and demand little time, just like this pasta with broccoli and almonds. It's in the kitchen on a daily basis that I experiment the most. Occasionally, for a birthday or when friends or family come over, I like to take the time necessary to achieve more elaborate desserts, such as Bavarian cream cake.
I have decided to write down some of my daily recipes as this can serve as a source of inspiration to all. You will see that thinking outside of the box is not that complicated and that even when there is little time, we can do better than pasta with ketchup!
I begin this series with a pasta recipe because I'm really fond of pasta, and I think I'm not the only one! This pasta with broccoli and almond recipe can be followed with any type of pasta. The recipe is vegetarian (unless you choose meat-stuffed raviolis, of course!).
Ingredients for 2 servings
1 small head of broccoli
2 + 2 tablespoons olive oil
1 small clove garlic
20 almonds
150 g (5 ¼ ounces) pasta
Salt and pepper
Grated parmesan cheese (optional)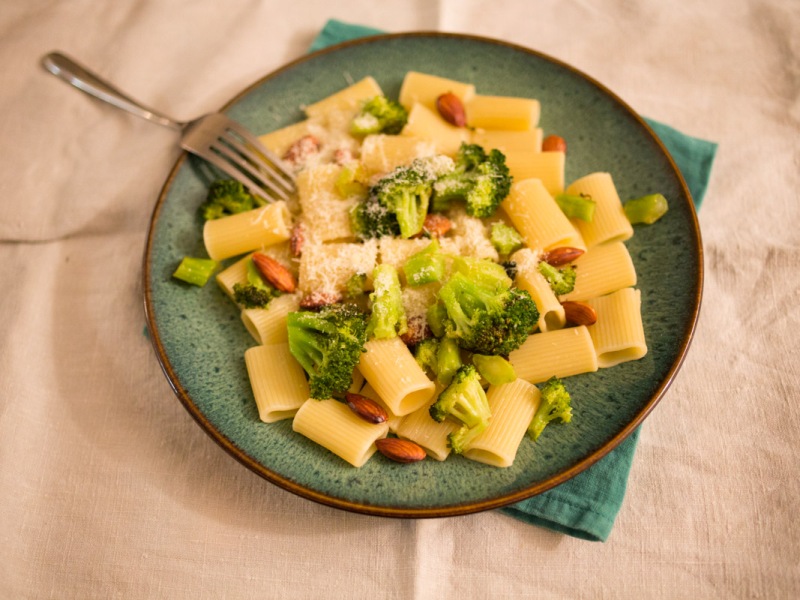 Preparation
1. Wash and cut the broccoli head into chunks, then steam cook the broccoli for 5 minutes or alternatively, cook it in 1 liter (5 cups) of boiling water for 10 minutes. Drain the broccoli and set it aside.
2. Cook the pasta for the time indicated on the package, drain and arrange on plates.
3. While the pasta is cooking, in a frying pan, heat 2 tablespoons olive oil and brown the peeled and chopped garlic clove. Add the broccoli chunks and almonds and brown it all at medium heat. Add salt and pepper. Arrange the broccoli and almonds on the pasta and add a thin layer of olive oil, and grated Parmesan cheese before serving.
This pasta with broccoli is quick to prepare and deliciously highlighted by the richly favored olive oil (choose an extra virgin olive oil, organic if possible) as well as by the crunchy almonds. Served alone, broccoli might not seem very appetizing, yet here its properties are enhanced by the seasoning. This is a dish that I truly love.
---